Recommendations
---
A fishing journey in any spot of Bariloche might be a great experience for expert anglers as for those who just want to enjoy the landscape.
Enjoy
---
Not everyone wants to catch the biggest fish, although it is true that one feels satisfied if that happens; being surrounded by the landscape, enjoying good food and drink, taking pictures of the local species or getting away from the rest of the world are also valid reasons to make an excursion. Depending on the fishing experience and the interests, our guides will give recommendations about the fishing style and the most appropriated place to fish.
Professionals
---
With a good fishing level, you will be able to take the most profit to these places not reachable by everyone. A great goal might be the Limay river by the end of the season and a challenge to fish a great brown trout. The beginning of the season might be an excellent opportunity to enjoy the lakes.
Luggage required
---
Do not hesitate to ask about the kind of clothes for each time of the year. It is convenient to have extra clothes in case you get wet. It is important the use of sun cream and hat or cap during the whole year. The use of life vest during the excursions is compulsory.
Enjoy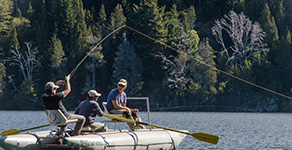 Professionals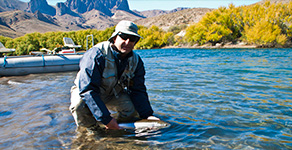 Luggage required